Hotel recommendations for our out of town alums…
<![if !supportEmptyParas]> <![endif]>
Being you all were kids in New Orleans during your high school days there is little doubt but that you know the land.  Hotel prices vary for different times of the year, so you might want to do a little research in advance.  We are already being asked for recommendations and that is just a personal preference item.  Some may wish to stay in town, others Metairie and others by the airport.
<![if !supportEmptyParas]> <![endif]>
<![if !vml]>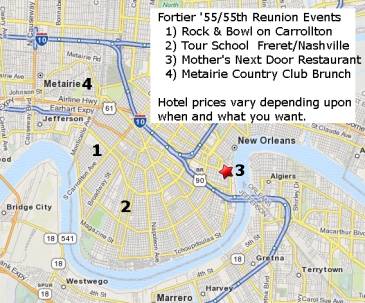 <![endif]>Chris Bertucci wrote a response to one inquiry and said: 
  "Good to be able to try and assist you and I hope that you can join us for our Fortier '55's  55th Reunion March 2010.
    As Dick probably told you, we have events planned for Friday 3/5/09, Saturday 3/6/09 and Sunday 3/7/09. On  Friday, we've plan to be at the new "Rock & Bowl" (1), which is on Earhart Blvd. just off of Carrollton Ave. in the same block where the old College Inn was located.   Saturday during the day there will be a tour available of Fortier now known as Fortier/Lusher Campus. (2) - On Saturday evening, we plan to be at "Mother's Restaurant" (3) which is downtown at 401 Poydras St. and - on Sunday we will be at "Metairie Country Club" which is at 580 Woodvine Ave. in Metairie just off Friedrichs Ave. and Northline St, (4) easily accessed from Carrollton Ave.
    So, there's no one Hotel to be near to each, but there are any numbers of places to stay, depending on whether you will have a car or would rather take a cab. If you'd consider staying in the Quarter, Nancy Kuss, Dicks wife, got a price for her '59 Fortier group at the Richelieu Motor Hotel, 1224 Chartres St. N.O., for $125 per night.  Otherwise, I'd probably prefer somewhere in Metairie, on or off Causeway Blvd. since that would be convenient to all activity locations via I-10 at comparable prices as well as being convenient to the Airport and shopping.  Most hotel chains are represented in Metairie, including; Sun Suites, Courtyard by Marriot, Marriot, Four Points by Sheraton, Ramada Inn, Best Western, La Quinta, Hampton Inn and Sleep Inn.  You can access them all by going to "hotels in Metairie, La." and shop them there.
   If you'd like more assistance, let me know what your preference would be and I'll be happy to help.
   For more info on the activities, go to www.Fortier55.org .
<![if !supportEmptyParas]> <![endif]>
Chris resides in a beautiful condo in Metairie and no doubt explains his Metairie preferences.  I, however, reside in the heart of downtown (the old CBD) so I'd be inclined to encourage this direction.   There are more hotels, and many with super deals, all around the city.
<![if !supportEmptyParas]> <![endif]>
I've created the map above to help you with perspective as to where the events will be happening geographically.
<![if !supportEmptyParas]> <![endif]>
DICK JUGE